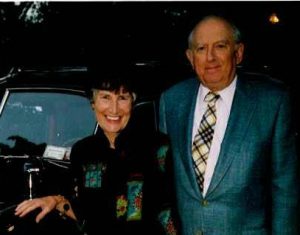 The John L. and Hope L. Furth Endowment for the Smithsonian Libraries began as an unrestricted fund in 2005 to further the Libraries' mission. The Endowment has helped to engage the public and research communities to foster diverse learning experiences and has offered opportunities to increase and diffuse knowledge. "Libraries are my passion" says Hope. "The Smithsonian Libraries represents many of my values that are most important to John and me: scholarship, education, dissemination of knowledge, collaboration. The opportunity to support the Libraries at one of the world's stellar institutions is a great joy to us both."
Since 2013, this endowment has supported five summer interns and contributed significantly to the professional development of future library and information science professionals. The Furth Family endowment furthers the Libraries' mission by allowing for the Libraries to connect with the public and users through these valuable, substantial learning opportunities which also provide professional mentoring and guidance.
The Furth Endowment has also fostered professional development among Smithsonian Libraries staff. "Collaborating for Results," a day-long intensive training for staff, offered a series of workshops on how to improve communication across departments, work effectively with others, and improve team-building for a results-driven organization. Fifteen staff participated in the event organized by Ninette Dean, our Management Support Specialist. "The event was very well received," she said.
I had the opportunity to intern with Smithsonian Libraries as a graduate student. The stipend I was offered helped to offset the cost of living in Washington D.C. which made it feasible for me to accept this position hundreds of miles away from the university I was attending.

The Libraries offer a truly immersive internship experience, in which I was able to interact with staff as a peer and contribute to their work in meaningful ways. Importantly, I had the opportunity to produce a concrete deliverable that I knew would be utilized.

Today, I know that my work was worthwhile and helpful: after graduation, I was fortunate enough to succeed in another application process and to again accept a staff position at the Libraries, where, though I work on a different project, I can see the work that I began as an intern continues.

Jackie Chapman
2012 Intern and current Librarian