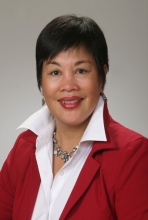 A CPA at Ernst, Evelyn spent the first 17 years of her career in the audit and finance function as Controller for a bank and for Charles Schwab and as CFO and Chief Administrative Officer for U.S. Trust, a wealth management firm. She was given the opportunity to hone her ski1ls in marketing, business development, strategy, M&A, and product development, culminating in the role of EVP of Charles Schwab, member of the Management Committee, and President and CEO of Charles Schwab Investment Management.
Evelyn is a recognized leader in building motivated teams in the public and non-profit worlds. As President and CEO of Charles Schwab Investment Management she was responsible for all aspects of the business, growing the assets to over $200 billion while generating $1 billion in revenue.
Recognized in the community for her leadership, she has received San Francisco Business Times "100 Most Influential Woman" award, 2003-2009; CSU 2008 East Bay Alumnae of the year; 2014 "Outstanding Director;" and in 2018, Most Inspired Award by the SF Business Times. In 2016, she received an Honorary Doctorate in Humane Letters from Cal State University East Bay, NASDAQ 100 Directors in 2019, and a NACD directorship 100 Honoree for 2020. She is also a frequent guest speaker and panelist on board of director topics at NACD Global and Chapter events, Women Corporate Director events, and on-boarding boot camps for aspiring directors. She also speaks on leadership skills at Employee Resource Groups and University MBA programs and as a moderator for programs at The Commonwealth Club.
Evelyn has served on several public and private boards and currently serves on public company boards for Tempur Sealy (TPX), Health Equity (HQY), and Ortho Clinical Diagnostics (OCDX) as Audit Committee Chair for each; global consulting firm Protiviti, a private REIT, and leadership roles in several non-profit boards, including as Chair of The Commonwealth Club and of the Blue Shield Foundation, and previously Co-Chair of Women Corporate Directors Advisory Board. She formerly served on the boards of Blue Shield of California, Long Drugs, Tamalpais Bancorp, Aeropostale (teen specialty clothing), High Mark Funds, and the National Association of Corporate Directors NorCal chapter. She is a graduate of CSU East Bay and the Stanford Senior Executive Program